October 6 @ 7:00 am

-

10:00 pm
Gallery Night: Center for the Apes Exhibit
Books & Books presents…
GALLERY NIGHT –CENTER FOR THE APES EXHIBIT
Gallery Opening Night: Friday, October 6th, 7:00-10:00 PM |Books & Books, Coral Gables
---
About the Event:
Mark your calendar for October 6th, as we have a special treat in store! Patti Ragan, the founder of the Center for Great Apes, will be at the opening reception of the "Primates Paintings + Portraits" exhibit at Books & Books. We invite you to join in on the excitement!
In honor of our 30th anniversary, the Center for Great Apes is thrilled to present a series of captivating art exhibits. These exhibits will showcase striking portraits and expressive paintings crafted by none other than the remarkable great apes residing at our sanctuary. You can witness the artistic talents of Bubbles, Sandra, Pumpkin, Jacob, Mowgli, and Keagan as their creative works adorn the gallery walls at Books & Books.
This extraordinary exhibit will be accessible throughout the entire month of October at Books & Books. Don't miss this unique opportunity to marvel at the artistic prowess of our beloved apes while celebrating our three decades of dedication to their well-being.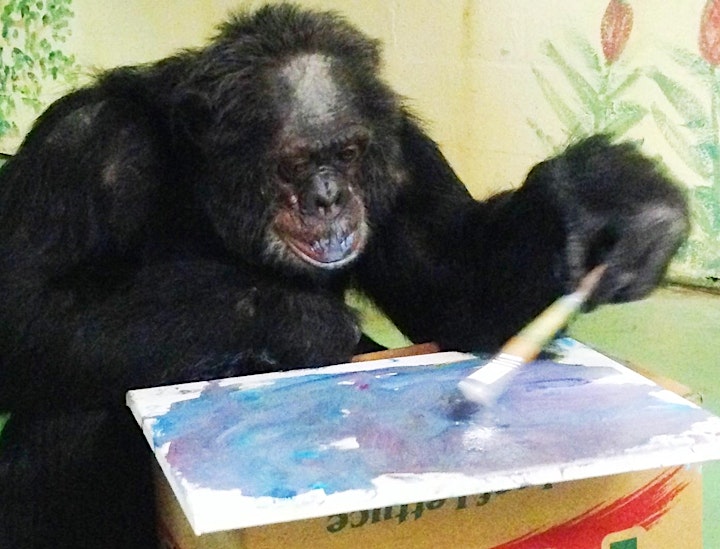 Bubbles, a chimpanzee, paints as one of the many different enrichment activities at the Center for Great Apes.