Indie Next List
This feature require that you enable JavaScript in your browser.
The Hating Book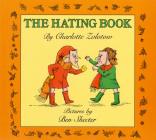 The Hating Book (Paperback)
Usually Ships in 1-5 days
Description
---
I hate hate hated my friend.
When I moved over in the school bus,
she sat somewhere else.
When her point broke in arithmetic
and I passed her my pencil,
she took Peter's instead.
"Ask her," my mother said.
"Ask your friend why."
About the Author
---
Charlotte Zolotow—author, editor, publisher, and educator—has one of the most distinguished reputations in the field of children's literature. She has written more than seventy books, many of which are picture-book classics, such as Mr. Rabbit and the Lovely Present and William's Doll. She lives in Hastings-on-Hudson, New York.