Indie Next List
This feature require that you enable JavaScript in your browser.
Goodnight Moon Board Book 60th Anniversary Edition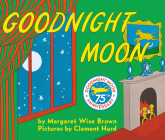 Goodnight Moon Board Book 60th Anniversary Edition (Board Books)
Usually Ships in 1-5 days
Description
---
In a great green room, tucked away in bed, is a little bunny. "Goodnight room, goodnight moon." And to all the familiar things in the softly lit room--to the picture of the three little bears sitting in chairs, to the clocks and his socks, to the mittens and the kittens, to everything one by one--he says goodnight.
In this classic of modern children's literature, beloved by generations of readers and listeners, the quiet poetry of the words and the gentle, lulling illustrations combine to make a perfect book for the end of the day.
About the Author
---
Few writers have been as attuned to the concerns and emotions of childhood as Margaret Wise Brown (1910-1952). A graduate of Hollins College and the progressive Bank Street College of Education, she combined her literary aspirations with the study of child development. Her unique ability to see the world through a child's eyes is unequaled. Her many classic books continue to delight thousands of young listeners and readers year after year.